Profile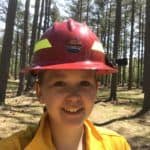 Stacey New
My CV
Education

2015 – 2019 PhD in Fire, Geography at the University of Exeter.
2013 – 2014 Master of Research in Climate Change Impacts and Feedbacks at the University of Exeter.
2010 – 2013 BSc (Hons) Geography at the University of Exeter.
2003 – 2010 A-levels, GCSE, Bideford College.

Qualifications

PhD, Masters (MRes) in Climate Change, BSc in Physical Geography, A-Levels in Geography, Environemntal Science, Sociology and Psychology, chosen GCSE subjects were Geography, Sociology, Art and German.

Work History

I've previously worked as a teaching assistant and a research assistant at the University of Exeter, I've also worked in a fish and chip shop and sold kitchen equipment at a local shopping centre.

Current Job

Employer
About Me:

I'm currently a Climate Scientist at the Met Office in Exeter. I've just finished my PhD at the University of Exeter where I studied wildfires and got to set fire to things in the laboratory! I'm proud to say that I'm now a doctor of fire!

Read more

I'm from and live in North Devon with my family, including my dog Pixie (she's a crazy Spaniel 🐶). I love playing hockey and studying Geography, it was my favourite subject at school  ❤🌍. I've been to lot's of amazing places around the world on fieldwork including the Amazon Rainforest, Iceland and New Zealand! I even got to travel to Disney World in Florida to present my research! I'm a secret gaming geek (shhh don't tell anybody) and love playing Fifa, although Tomb Raider is my favourite!

My Work:

I'm a Climate Scientist and I travel internationally working with people to better understand climate change. I have just finished my degree to become a doctor, where I got to burn plants and wood to learn about fire!

Read more

I have just started a job as a climate scientist at the Met Office in Exeter. I work in the international team, working with scientists around the world to develop climate services that help people understand the potential impacts of climate change. This is important work as it helps people to understand the climate science that the Met Office produces and assist them to prepare and adapt for a changing climate.

I am just about to graduate as a doctor of fire! The research I did for this will help scientists to understand how a fire behaves when burning different plants and wood. I got to set fire to trees and plants in the laboratory and in America with firefighters in forests so that I could watch and study how the fire changed. This is important as climate change could result in  more damaging fires in the future that could affect a greater number of people and more of the environment.

My Typical Day:

I live about an hour and a half away from where I work so I get up very early and drive to work (hopefully I'll move closer soon). I spend a lot of my time in meetings talking to other scientists about their work and planning trips to conferences all over the world to show and tell people about the amazing climate change work being done at the Met Office.

Read more

I get up before the sun rises and travel to work, all after a nice cup of tea of course! I like to spend the first couple of hours at work replying to emails from scientists and organisations I'm working with, I also check my calendar and prepare for meetings I have during the day. I will usually have a number of meetings during the day, this involves chatting to scientists about the work that they are doing and how we can work together to create climate services to take to countries such as China. I also have video and telephone calls with scientists all over Europe. At the moment we are organising a climate change festival in Latvia! I'm also in charge of the twitter account for one of our projects, so this involves checking twitter in the morning and tweeting about climate change and climate science!

I also get to do a lot of training to learn new skills and go to exciting talks from amazing scientists. I also get to work on STEM events such as I'm a Scientist Get Me Out of Here!, communicating with local schools and local communities about climate change.

What I'd do with the prize money:

Develop a climate change board or card game with local students and get it professionally created!

Read more

I love learning and teaching people about climate change, and part of my job is to communicate climate science. I've found that reading and writing isn't always the best form of communication, interactive and practical ways of communicating science can be fun, stimulating and also super educational!

I would like to visit my local college and run a climate change workshop for students. During this workshop I would get the students to think of and develop a board or card game based on climate science and then use the money to have it professionally created.
My Interview

How would you describe yourself in 3 words?

Quirky, fiery, geeky!

What or who inspired you to follow your career?

My GCSE and A-Level Geography teacher, Dr Ankers!

What was your favourite subject at school?

Geography

What did you want to be after you left school?

Geography teacher

Were you ever in trouble at school?

No, never had a detention. Teachers used to tell me I wrote too much for homework if that counts!

If you weren't doing this job, what would you choose instead?

Lecturer or teacher!

Who is your favourite singer or band?

Florence and the Machine

What's your favourite food?

Cheeseburger and fries. But I always crave fish and chips when I'm not in the UK!

What is the most fun thing you've done?

Walked on a glacier in New Zealand!

If you had 3 wishes for yourself what would they be? - be honest!

Visit the past, visit the future and hug a sloth!

Tell us a joke.

I tried to catch fog yesterday, but I mist!
My profile link:
https://ias.im/u.249465
---
---
---