Profile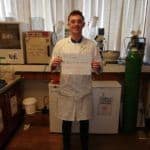 Connor Prior
My CV
Education

I went to Holy Name Catholic Primary School Cardinal Heenan and Catholic High School both in Leeds. Then for sixth form I went to St. Aiden's and St. John Fisher Associated Sixth Form in Harrogate (left with A's in Chemistry Physics and Politics and a C in AS Maths). I went to the University of York where I graduated with a 2:1 Masters Degree in Chemistry (I worked on the total synthesis of new anti-biotics under Professor Paul Clarke). Finally, I'm at the University of Birmingham doing a PhD (doctorate) in organosulfur chemistry under Dr. Richard Grainger.

Qualifications

GCSEs: 2 A*, 5 A, 1 B and 2 C (A* in advance science and an A in core science and maths)
A-Levels: A in Chemistry, A in Physics and A in Politics (AS level C in Maths)
Degree: 2:1 MChem from the University of York

Work History

Shop assistant in a men's shoe shop for 6 years, warehouse worker over the summers and research and development scientist at a paint company.

Current Job

PhD candidate in Synthetic Organic Chemistry

Employer
About Me:

I'm and enthusiastic and loud young scientist with a passion for chemistry!

Read more

I live in Birmingham, but I'm originally I'm from Leeds. I'm a massive Leeds Utd And Celtic fan. I like to chill out and watch TV (Brooklyn 99 is my favourite). My favourite food is pepperoni pizza or Thai food! I'm an ally to the LGBTQ+ community and try to promote gender and ethnic minority groups in science. He/him

This is me meeting the 2018 Nobel Prize winner in Chemistry Frances Arnold!

Even as a scientist we all need to relax. Here's me on holiday supporting the Celtic!

This is where I do all my chemistry! This glass shield sucks all the toxic chemicals I work with into the ventilation system and away from me!

My Work:

I mix different things together to see if they react and make a new chemical!

Read more

My work consists of trying to make novel (new) compounds which could provide new ways to make medicines. As a kid science always interested me. As I grew older I found that I liked the idea of starting with something very small and eventually making a something that could change the lives of people. This could be through medicine or new materials for technology ect.

Now I work on the front lines of discovery and innovation. I specialise in the aromatic compounds which often have bright colours!

My Typical Day:

I wake early and get into the lab and get the vacuum lines on and computer on! I work in a team which assists each other when doing this!

Read more

I wake up at 6.30am/7am and get into work for 8.30am. I look at the plan I made the day before and start to think what the best way to approach the day is (normally over a black coffee). By 9/9.30 I'm in the lab doing a reaction and making sure everything is clean and tidy – accidents happen when the place is untidy! I then prepare any reactions that need to be done for the day. I have lunch at 12 noon SHARP! I get quite cranky when I am hungry!

I normally do purification is the afternoon because it is a lot easier job! An example is below. This is a column. We start our compounds at the top (the brown bit) and we run petrol through the column. The different chemicals come out at different times – leaving each chemical pure. You may have done this using filter paper, a felt tip pen and water to separate out the different dyes in the ink!

I leave the lab at around 6pm/7pm and shut all the machines down in a safe manner ready for the next day.

What I'd do with the prize money:

I would use the money to help disadvantaged children to interact with science! The Chemistry Department at the University of Birmingham has an excellent outreach coordinator called Dr. Ruth Patchett

Read more

Kids from not-so-privileged backgrounds often struggle to find a path into science. Some might not know any scientists or have a difficult time at home which makes getting in to science more challenging.

I think it is vital for these kids to find a path so I would like to use the money to run a "work experience" day to get some students from local schools in to our labs at the University to do some experiments and meet some scientists. We'd be able to pay for their transport and for them to try some experiments themselves here in our labs and some kit to take back to school to show the others in their school.

Science is better with a bigger mixture of people – that's the only way we will get lots of new and different ideas to try out in our experiments and discover new things. Different experiences and different opinions broaden the knowledge of science further and make it better. I think some school pupils worry that they wouldn't fit in at University or in science so it would be great for them to come and see first-hand what it's like and that they can choose to come if they like.
My Interview

How would you describe yourself in 3 words?

Enthusiastic, Patient and intuitive

What or who inspired you to follow your career?

Madam Marie Skłodowska Curie - discovered 2 elements and is the ONLY person with 2 Nobel Prizes in different sciences

What was your favourite subject at school?

History and Science

What did you want to be after you left school?

A Herpetologist (someone who studies snakes)

Were you ever in trouble at school?

Every now and again...

If you weren't doing this job, what would you choose instead?

Builder

Who is your favourite singer or band?

Frank Turner

What's your favourite food?

Pizza and Thai food

What is the most fun thing you've done?

Travelled around the USA for 6 weeks researching over there

If you had 3 wishes for yourself what would they be? - be honest!

For Celtic to win the Champions League, the ability to fly and unlimited wishes

Tell us a joke.

A neutron walks into a bar and asks "how much for a beer?" The bartender says, "for you? no charge."
My profile link:
https://ias.im/u.249463
---
---
---