Profile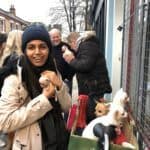 Zoya
My CV
Education:

I went to school in India,
1998-2013- GCSE equivalent, St Mary's School.

2013-2015- A-levels equivalent in St Mary's Junior College as well, I studied Physics, Chemistry, Biology, Mathematics and English.

2015-2018- BSc in Biotechnology at Fergusson College and studied a wide range of subjects like genetics, biochemistry, microbiology etc in theory and practically.

2018-2019- Msc in Prenatal Genetics and Fetal Medicine at UCL.

Qualifications:

BSc- Biotechnology with a specialization in genetics.

MSc- Prenatal Genetics and Fetal Medicine.

Work History:

I started working with an event management company.

I worked as a teacher's assistant teaching GCSE children biology.

I would also work as a scribe and invigilator for GCSE exams.

I teach children biology in Australia and UK biology through an online platform.

Current Job:

I currently work as an intern within an OBGYN department as a geneticist.
About Me:

I like to believe I'm an outgoing, nerdy and caring person.

Read more

I studied in London and have recently moved to India for a brief training. I like to call my house a mini zoo, complete with my 5 puppies, 3 cats, multiple birds and this monkey who comes every summer. I am a  geneticist by profession and puppy cuddler by passion. I've been told I have almost photographic memory. I love cooking and have recently been bitten by the travel bug.

Read more

My work mostly involves high risk obstetrics including advance maternal age mothers and artificial reproductive technology conceived pregnancies. I follow patients through their pregnancy scans, counsel them about the investigations seen on scans or in their blood works and along with doctors try and manage the health of the mother and baby.

My Typical Day:

I normally have a 10-12 hour day most days. I spend my day with seeing little babies while they are still in their mom's tummies and try to make their time in there the best time possible!

Read more

My typical work day is about 10-12 hours, six days a week. A hospital duty never sees days off. I start my day with seeing patients through their pregnancy ultra sound sonograms to check for the baby's development. Then I counsel the patients about what we saw and if there is anything that can be done. I would then take the patient and would discuss their case with a gynecologist who would prescribe medication or further intervention as needed. I also watch surgeries and sometimes go to the lab where they grow the babies in dishes (it's pretty cool !!!)

What I'd do with the prize money:

If I won the prize money I would use it to create an out reach program to spread the concept of fertility and sexual education amongst school children.
My Interview

How would you describe yourself in 3 words?

Outgoing, nerdy and a little miss sunshine.

What did you want to be after you left school?

Biologist or Chef

Were you ever in trouble at school?

Very rarely, i was definitely a bit naughty but I made up for it with my grades, so I got away with things 😋

Who is your favourite singer or band?

Above and Beyond

What's your favourite food?

Pizza

If you had 3 wishes for yourself what would they be? - be honest!

To be healthy, happy and have a good practice to help as many people as possible.

Tell us a joke.

What does chromosomes like to wear? Genes.
---
---
---