Profile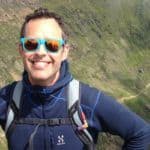 Tom Scott
My CV
Education:

Qualifications:

GCSEs
A Levels (Physics, Geography, Chemistry and Maths)
University degree in Geology (rocks are fun!!)
PhD in Physics

Work History:

I've never had a real job – mine is too fun to call it work!!!

After A levels, my degree at Bristol University was in Geology, then I did a PhD, then I stayed and became a professor!

Current Job:

Professor of nuclear materials
About Me:

I'm a Professor of Materials And Devices (a MAD Professor?!) at the University of Bristol.

Read more

My work allows me to use lots of cool equipment such as robots, scanners and drones, like this one below.  This is because working with radioactivity can sometimes be dangerous for humans, so it is better to use equipment that doesn't get tired or scared of radiation!

This is me on one of my fieldtrips to Japan, where we have flown drones over radioactive areas to collect data and understand what materials are there.

Here's me with one of my good friend Dr Yuki Satou from Japan. We visit each other regularly to work on big scientific problems, share information and find answers together.

Unfortunately, my work doesn't always involve going to exciting places, but I do get lots of chances to do research in amazing facilities in Bristol. I, along with many other researchers and students, are studying lots of different materials and finding ways to make them last longer, or make them stronger.

What I'd do with the prize money:

I've been to several schools to help out in their science clubs, and I've noticed that lots of pupils want to learn more about sensors, electronics and programming.

As part of my visits, I'd love to give schools a set of microcontrollers to play with – these are USB devices which can read sensor data and show it live on computer.
My Interview

How would you describe yourself in 3 words?

excited, funny, courageous

What did you want to be after you left school?

Spider man

Were you ever in trouble at school?

Yes - I always asked lots of questions until the teachers got too tired to answer!!

Who is your favourite singer or band?

Spice Girls

What's your favourite food?

Sushi

If you had 3 wishes for yourself what would they be? - be honest!

My own nuclear reactor, to be able to fly, and not need to sleep.

Tell us a joke.

What do you call a dinosaur with just one eye? Do-you-think-e-saw-us!
---
---
---