Profile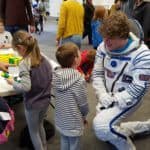 James Lees
My CV
Education:

– Hodgson High School
– Blackpool Sixth Form
– The University of York

Qualifications:

—GCSE—
Maths – A*
Physics – A*
Chemistry – A*
History – A*
English Language – A*
IT – A*A
English Literature – A
Geography – A
Biology – A
R.E. – A
Graphic Design – A
French – B

—As Level—
Chemistry – A

—A Level—
Maths – A
Further Maths – B
Physics – A

—Degree—
Physics with Astrophysics – 2:1

Work History:

Science Communicator – Cambridge Science Centre

Current Job:

PhD Student at the University of York
About Me:

I'm a PhD student and science communicator based in York. I've written several books and often put on talks about physics.

Read more

I live and work in York

I spent most of my time playing video games or boardgames and baking.

I've spent the last 6 years working to let people know all about physics, writing books, making videos, doing talks and shows. I'm always looking for new and exciting ways to do it.

Read more

I work with an Atomic Force Microscope (AFM) it's basically a very small lever that gently brushes over the surface of an object and can show very small things down to the size of an atom.

My job is to make it so that the machine is also able to work as a thermometer and measure the temperature.

This is very important for future technology. As phones and computers get smaller and smaller we need to make the components that make them up smaller too. We all know that electronics can get hot and if it get's too bad they can stop working all together.

My machine will make it possible to properly test the next generation of tech. Testing where and why they get hot so we can keep making things smaller and smaller.

Within my own research i'm already using it to look at computer memory, wires and even the fridges of the future.

My Typical Day:

As I end up doing lots of different things I don't have a typical day. I can spend time in my office working on models, in the lab or at other places working with others.

Read more

In a PhD there is no 'typical day' sometimes I can spend weeks working on simulation code in the office. Other times I will spend weeks in the lab working on my instrument and taking measurements. But I also need to do a lot of designing and building new parts which can take me all over the place.

What I'd do with the prize money:

I would use it to get more equipment and resources including Virtual Reality Software for the department to help talk about my research to others.
My Interview

How would you describe yourself in 3 words?

Curious, Excitable, Jovial

What did you want to be after you left school?

I didn't know (and still don't)

Were you ever in trouble at school?

Not really, I only ever had one detention and got 100% attendance.

Who is your favourite singer or band?

I don't really listen to music

What's your favourite food?

Nearest

If you had 3 wishes for yourself what would they be? - be honest!

More wishes

Tell us a joke.

A freind used to attack me with bird puns but I soon learnt Toucan play at that game.
---
---
---