Students! Help us decide which scientists and engineers should take part in the next event, and you could win a voucher. All you need to do is take 2 minutes now to judge these 12 sentences.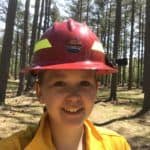 I still can't quite believe that the students voted for me to win! Thank you to the students, and their teachers for still being so engaged despite the difficult times that we are facing at the moment. You all kept a smile on my face, especially in the last week as work and school were in a weird state of uncertainty. My personal highlight was being called a 'legend', I'm never going to forget that. I hope that I've inspired some future scientists!
The live chats were my highlight, I don't think I've ever typed so fast, it was an adrenaline rush and I loved it! I also enjoyed answering all of the questions that the students asked, these ranged from 'What do you burn and why do you burn it?', 'How can we stop climate change?' and 'Who inspired you to be a scientist?', to 'What's you FIFA Ultimate Team rating?' and 'Who is your favourite YouTuber?'. I loved the fact that the students were super engaged especially regarding climate change, but also that the students just wanted to know more about us as people. I think it's important to be relatable and show that scientists like all the same things as the students, from playing PS4 to enjoying eating burgers and sweets as treats!
I wish that this event had been around when I was at school, as someone who was quite shy this kind of engagement with scientists would have been perfect for me. I was lucky that I had my geography teacher to inspire me to become a scientist, I hope through I'm a Scientist that students have found someone who has inspired them amongst all of the amazing scientists who have taken part.
STEM engagement is a big part of working at the Met Office and I would like to thank them for encouraging staff to become STEM ambassadors and allowing us to spend time doing activities such as I'm a Scientist. I would also like to thank the I'm a Scientist team for being amazing! From signing up in the beginning a few weeks ago, to being involved in chats with schools, taking part has been easy, exciting and inspiring! The students I have spoken to have inspired me to take part in more events like this in the future for sure.
I would also like to thank my fellow scientists in my zone: Zoya, Tom, Laura, James and Connor. A highlight in the chats was being able to connect with fellow scientists and find out about the amazing work they are doing.
Just remember, anyone can be a scientist! I've been guilty in the past of not believing I'm good enough and look where I am now, I have a job as a Climate Scientist, and I won this! My final piece of advice to the students is to always say to yourself 'I am good enough!' and if you love a subject keep doing it, set yourself goals and go achieve them!
To conclude, I would highly encourage all scientists to take part in I'm a Scientist. It is easily the most enjoyable and rewarding STEM event I have taken part in.
Stacey
Up for the challenge?
Want to answer some downright weird questions? Maybe even learn things from students?
Scientists! If you'd like the chance to win funding for your own public engagement work, apply for the next I'm an Scientist, Get me out of here :imascientist.org.uk/scientist-apply/
It only takes 2 minutes and one sentence to apply!
---